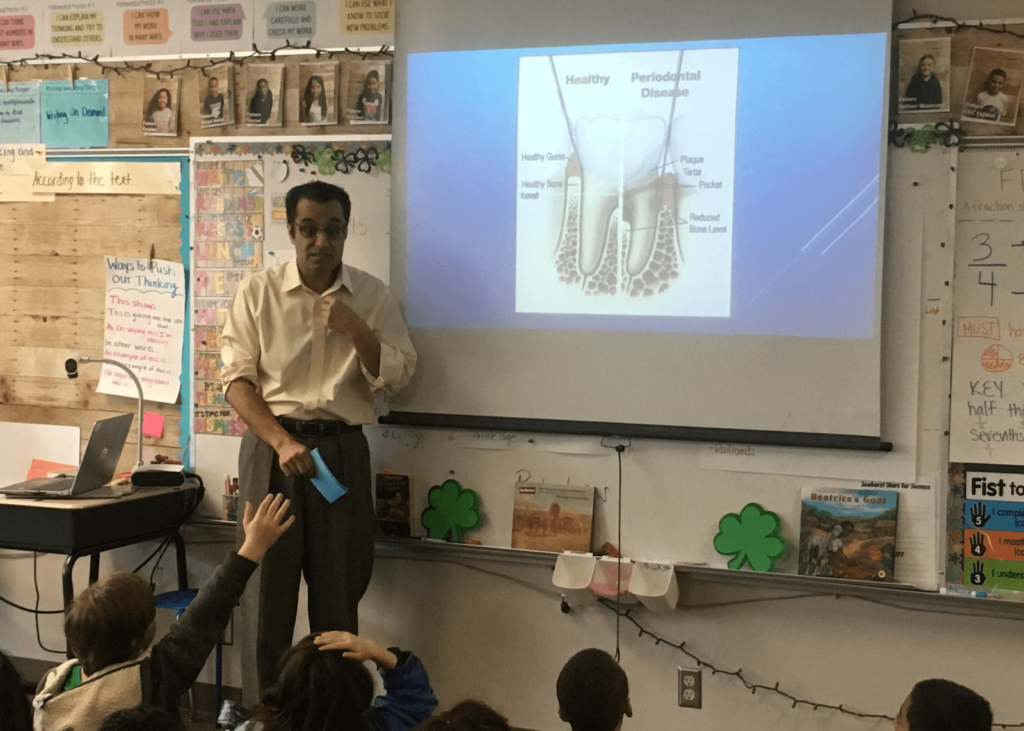 At our Burien, WA dentistry office, it's very important to us that we educate our patients (especially the younger ones) about the importance of good oral health. After all, when you take good care of your teeth and gums, you can go through life with a confident smile that's healthy and beautiful!
Recently, we were asked by one of our patients who teaches 4th grade at Seahurst Elementary School if we could visit the 4th grade classrooms to talk about dental health. Of course, we jumped at the opportunity!
On Feb 28, Dr. Bajwa and Krystal, our office manager, went to Seahurst Elementary to meet with three 4th grade classrooms. We had a lot of fun! We held a 30-minute presentation in each of the three classrooms talking about oral health, the oral cavity, plaque, braces, and home dental care. The kids were the most curious about wisdom teeth so we spent some time talking about the third set of molars and why Our West Seattle dentist sometimes needs to remove these teeth from patients' mouths.
Dr. Bajwa answered many great questions and the kids shared the experiences they've had while visiting their family dentists. It was a great day for everyone involved and we're very glad we were asked to visit the school and talk to the 4th graders!
Don't Forget To Schedule Routine Exams & Cleanings!
This is the perfect time for us to remind all you parents to schedule routine exams and teeth cleanings for your kids every six months or so. During this type of routine visit to our Burien dentistry office, we'll examine your child's mouth to look for any problems like cavities, and thoroughly clean and polish your child's teeth. If it's time for your child to visit us, give us a call at (206) 242-8080 or book an appointment online!