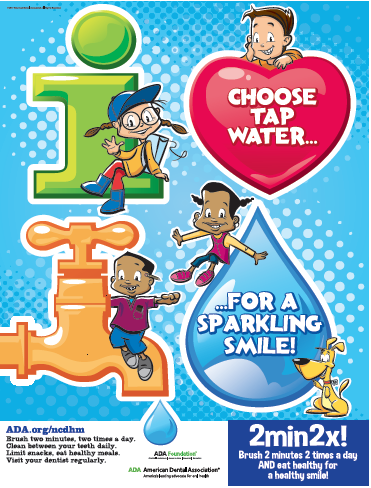 At New Wave Dental Smiles, our main priority is the dental health of our patients. This is why we are happy to join the American Dental Association in recognizing February as National Children's Dental Health Month. Each year the ADA works to promote the importance or oral hygiene with a new campaign. For more information on the February 2017 campaign we encourage you to visit the ADA's website.
National Children's Dental Health Month
For the whole month of February the ADA works together with thousands of dental health providers, healthcare providers and educators to promote the benefits of good oral health.
This years slogan "Choose Tap Water for a Sparkling Smile" is to promote brushing and flossing twice daily to make sure to maintain a healthy and happy smile.
In visiting the ADA's website you can download posters and fun activities to motivate your children to brush every day.
The Importance Of Tap Water
You may have heard before that tap water is healthy for your teeth – but do you know why? More than 70 years of research has indicated that optimal levels of fluoride in the water is safe and effective in preventing tooth decay by up to 25%. By simply drinking water daily, Americans can benefit from the protection fluoride provides no matter if you are at home, school or work!
Contact Your Burien, WA Dentist For More Information!
If you have any questions about how to encourage your child to brush and floss or how to maintain the best oral health, please do not hesitate to contact us. We are always happy to answer any questions that you may have.